Year 6 Young Apprentice Challenge Day - 09/10/2019
< Back to the news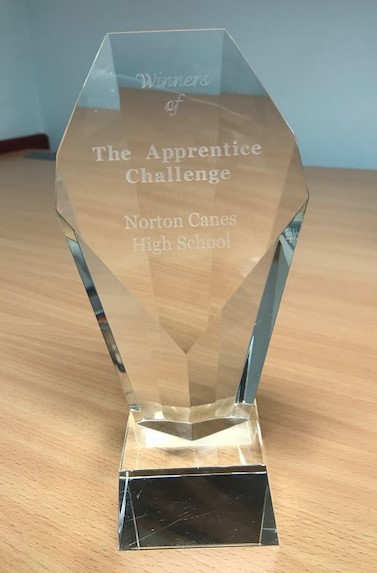 Year 6 pupils attended a Young Apprentice Challenge Day at Norton Canes High School.
I would like to congratulate all Year 6 pupils for their participation in the Young Apprentice Challenge Day, held at Norton Canes High School on 24th September 2019. Pupils worked in teams to take part in a competition between other primary schools. Each team were given time to devise a business plan for their given venture. All teams presented their business plan to a panel of business people, demonstrating teamwork, communication skills and business acumen. We are delighted to celebrate that it was a team from Five Ways for the second year running, that won the trophy for delivering the best 'pitch' to the panel of judges.
The winning team were presented with the following trophy that will be displayed with pride in school. Well done everyone! The winning team were made up of: Thomas Grimsley, James Adams, Lewis Graham, Nicholas Spriggs, Ollie Shuter, Jack Turner-Jones, Ethan Hodgetts and Christian Perry. Congratulations to all of you!